DEMHIST & ICOM
Demhist & ICOM
DEMHIST is an ICOM International Committee focusing upon the conservation and management of House Museums. Its name is an abbreviation of the French term "demeures historiques". House Museums range from palaces to cottages, from all periods. The interpretation of house museums includes historic, architectural, cultural, artistic and social significance.
DEMHIST holds conferences and maintains a website to help provide a professional platform for sharing ideas and solutions to conservation and management. Its goals include the development of standards for conservation, restoration and security of House Museums, as well as to develop communications with sector professionals and engage with visitors of House Museums. Further concerns also include identifying ways to improve community relations and promote Historic House Museums.
The International Council of Museums (ICOM) is a non-governmental organisation linked to UNESCO committed "to the conservation, continuation and communication to society of the world's natural and cultural heritage, present and future, tangible and intangible".
ICOM provides a forum for the international museum community to engage debates and scientific exchanges. In addition to its 113 national committees ICOM has 30 International Committees, of which DEMHIST is one, each devoted to the study of a particular type of museum (museums of art, science, literature, historic houses) or to a specific museum-related discipline (conservation, education, documentation).
History
DEMHIST came into being in Palazzo Spinola in Genoa, in 1997, during the conference "Living History. Historic House Museums"
During this conference, for the first time, the need was expressed for a specific ICOM committee devoted to this particular category of museums. The participants signed a petition which the ICOM-Italy president, Giovanni Pinna, submitted to the 1998 ICOM General Conference in Melbourne where it was accepted and ratified.
A few days later the new committee held its first meeting and chose the name "Historic House Museums/Demeures historiques-musées/Residencias Histèricas-Museo" as well as the acronym DEMHIST (from the French version). The Committee first gathered in July 1999 in St Petersburg where the first board was elected and the committee regulations were approved.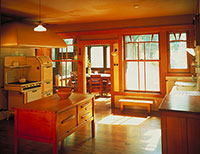 DEMHIST Today
Over the years, more and more organisations have joined DEMHIST; Today we have over 400 members with Historic House Museums across the world. Each year, they meet to raise and discuss professional issues.